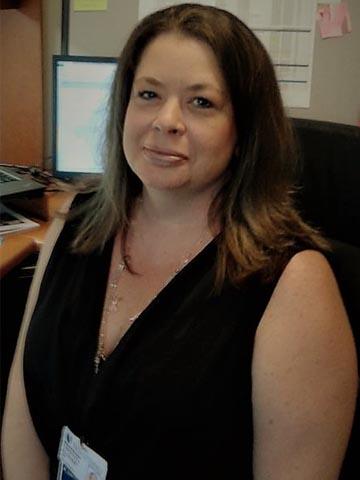 ​Graphic: Chris Kleinert, RN, CHPN, CCM, DukeWELL Care Manager, and her colleagues provide older patients care through DukeWELL.
---
Monday, September 21, 2020 by Morag MacLachlan, Inside Duke Health
Preparing a workforce to care for an aging population is a priority at Duke. The health system graduated its first class of geriatric resource nurses (GRNs) in 2008. Prudent planning as seniors will outnumber children by 2035. GRNs are astute in preventing and managing geriatric syndromes, such as delirium and malnutrition, which threaten older adults' health and quality of life.

Rose-Annie Ofori, a GRN on 8200 unit at Duke University Hospital attended the first GRN class. Her experience has been an invaluable asset as COVID-19 has been particularly lethal to people over the age of 65. She combats the disinterest in eating due to a loss of taste and smell with nutrition shakes to increase their protein intake. With visitor restrictions in place, Ofori connects her patients with their families via iPad. Since older adults lose muscle mass quickly, she ensures they are out of bed for meals at a minimum. These simple interventions help prevent delirium and preserve functional status.

"The most rewarding part of my job is knowing I've done the right thing and offered a patient hope," said Ofori, BSN, RN-BC, CNIV.  

Chris Kleinert and her team provide telephonic care management for older adults. Kleinert is a DukeWELL care manager and a GRN within Duke's Population Health Management Office.

"We start with meeting people's basic needs," said Kleinert, RN, CHPN, CCM.

Her team connects seniors with community resources that decrease food insecurity and promote medication adherence while ensuring they limit their community exposure to COVID-19. The team educates older adults on the use of technology for telehealth visits, and reinforces the importance of mask-wearing and hand hygiene. Seniors who test positive for COVID-19 may not be able to return home right away due to residing with a person who is immunocompromised. The team will step in to try and find funding for alternative housing.

"We've had to be creative with interventions during this pandemic," Kleinert said. "I love geriatrics and am glad we can help patients and caregivers around the state."