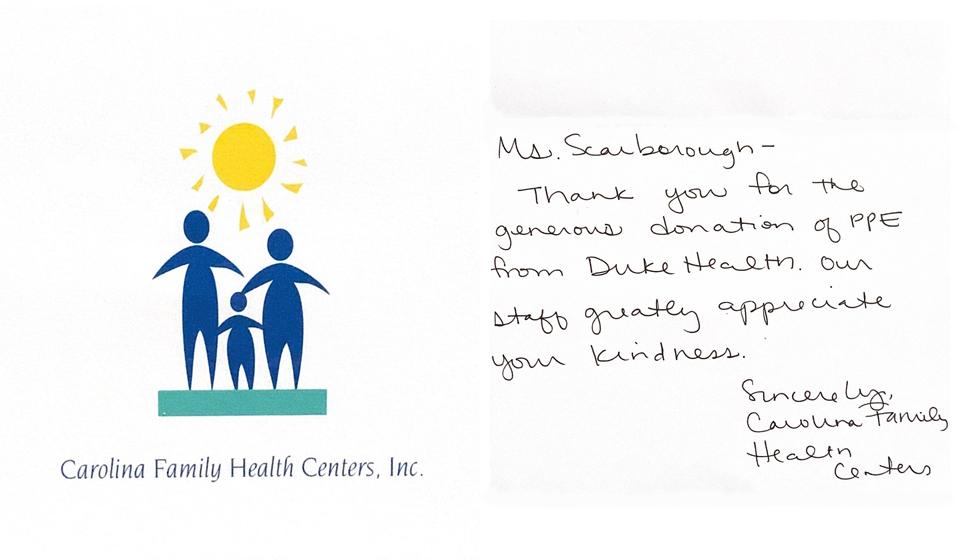 Graphic: A card sent to Marlena Scarborough, MSN, RN, of the Duke Population Health Management Office's physician liaison team, from the Carolina Family Health Centers, Inc. The centers serve Wilson, Elm City and Tarboro.
---
Tuesday, June 2, 2020 by Morag MacLachlan, Inside Duke Health
When the staff at Impact Primary and Urgent Care began running out of personal protective equipment (PPE) in April, they needed a helping hand fast. Located in the small town of Louisburg, 30 miles northeast of Raleigh, it was the only medical facility in the area offering tests for COVID-19.
Luckily, Impact Primary and Urgent Care is one of more than a dozen, mostly rural, independent practices in the Duke Connected Care network. This network is managed by Duke Health's Population Health Management Office (PHMO). The office's physician liaison team quickly mobilized to see how they could support clinics in the network.
"We all want to support local, small businesses right now," said Melissa Sullivan, MHA, BSN, RN, CPPS, the physician liaison team lead. "We can support restaurants through takeout orders and retail stores by shopping on their websites. But how do we support our local primary care providers? It's harder to do, but sending PPE was one way we could help."
Once the liaison team received the clinics' wish lists, Sullivan worked with Duke Health's network services and procurement teams to see what type of assistance was possible. Due to donations, effective planning and on-time arrival of supplies, the health system had a surplus of PPE, including gowns and earloop masks. And in a timely coincidence, the neighbor of the PHMO's chief medical officer John Yeatts, MD, MPH, approached him offering to donate 1,000 face shields his sports company had made. Taken together, the PHMO's physician liaison team was able to replenish PPE for 12 clinics.
"We are extremely thankful for the quick delivery of much needed PPE supplies," said Tracy Walker, RN, director of clinical services at the Carolina Family Health Centers, Inc. "We appreciate Duke Health for thinking of us during this time. You have definitely come through in a big way."​