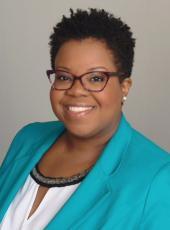 July 17, 2019
In just a few short years, the Duke Population Health Management Office has blazed trails in the wilderness of healthcare, thanks to the groundbreaking work of a talented team. Now, one of our own PHMO family members has been recognized as a thought leader in the industry. Coretta Smith, MSN, RN, director of population health at PHMO, has been named in a list of "32 Chief Population Health Officers To Know in 2019" by Becker's Hospital Review.
Becker's has evolved into a well-known source for online healthcare industry news, reaching over 1.8 million readers per month. In March,Becker's published its top 32 picks for chief population health officers at hospitals and health systems across the US. The list identifies individuals leading the crusade for health and wellness in their communities, helping at-risk populations reduce preventable disease, manage chronic illness, and overcome negative social determinants of healthcare. The article explains why Coretta earned such high distinction:
"Ms. Smith has spent more than 14 years with Duke University Health System, gaining nursing experience in various roles related to inpatient care, ambulatory services, research and utilization. With a certification in case management, she leads the Duke Health Population Health Management Office's 100-member team, which oversees the care of 12 populations. Outside of the clinical setting, Ms. Smith shares her expertise as a motivational public speaker.​"
Congratulations to Coretta for this well-deserved recognition. For more information and to see the rest of the list, visit Becker's Hospital Review.