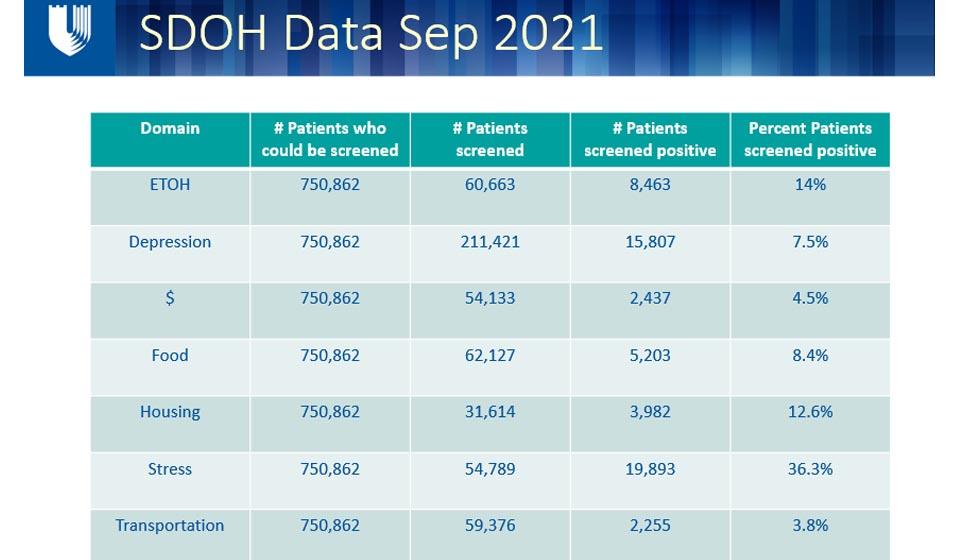 Graphic: ​A social drivers of health (SDOH) screening coupled with the NCCARE360 platform are allowing Duke providers to connect more patients with resources to support their overall well-being. Patients are screened annually for alcohol use, depression, financial strain, food insecurity, housing stability, stress and transportation needs.​
---
Monday, November 29, 2021 by Morag MacLachlan, Inside Duke Health
​Duke Health providers have screened 20,000 more patients for social care needs this year thanks to a questionnaire and online platform that facilitates the referral process.

"It's been eye-opening to see how many patients are in need," said Amy Kavanagh, BSN, RN, a population health nurse with Duke Primary Care (DPC). "It's a great feeling when you can connect a patient with resources."

NCCARE360 is an online platform managed by the N.C. Department of Health and Human Services. Kavanagh said the goal is to screen every patient annually for social care needs like food insecurity and housing issues. For those clinics that are live with the social drivers of health screening and NCCARE360, the platform helps to connect patients with the community based resources that can help them. The system tracks if the connection was successful or if further follow up is needed.

"The screening has really highlighted the needs our patients have," said Sara Johnson, MBA, PMP, director of population health for DPC. "I don't think we would be anywhere without Dr. Susan Spratt leading the charge. Her passion is making this happen."

Susan Spratt, MD, is an endocrinologist at Duke and the physician lead for NCCARE360 implementation. As a clinician, she knows firsthand how unmet social care needs can negatively impact a patient's overall health. Spratt hopes the state will provide more funding to community-based organizations so that she and her colleagues can keep screening patients and matching them with resources.

"In order to provide our patients with the best care, we have to know they are facing other needs," Spratt said. "We didn't always know that before. But this screening tool and referral platform is allowing us to have these conversations with patients. And we've learned that patients don't mind if you ask."