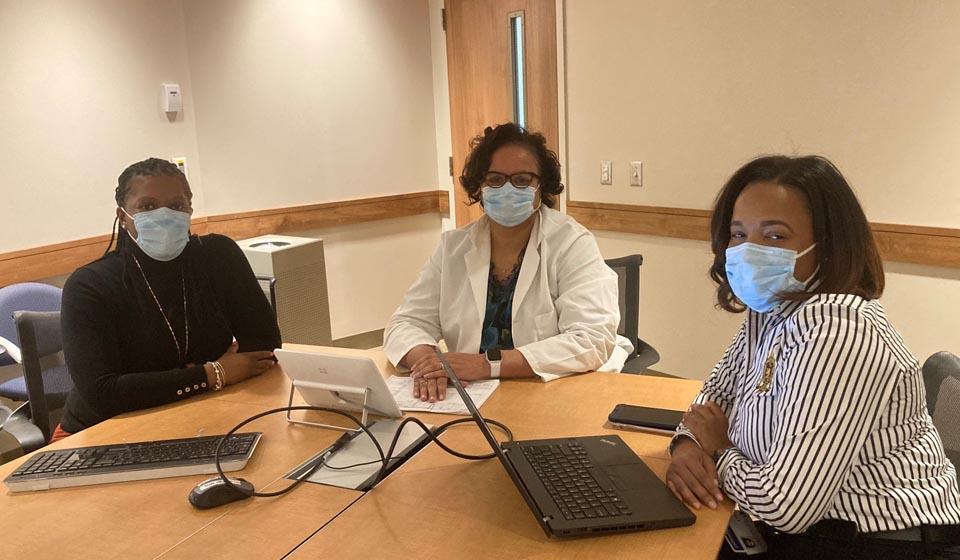 ​Graphic: Arkeba Barnes, Sharon Farrow and Molly Coston have worked together to reduce COVID readmissions.
---
Monday, June 7, 2021 by Morag MacLachlan, Inside Duke Health

Sharon Farrow's new position can be likened to that of a bridge. In September 2020, she stepped into the role of care transitions manager for two units treating patients with COVID at Duke University Hospital (DUH). By helping patients and families bridge the transition from the inpatient to the outpatient setting, Farrow is also helping improve length of stay and reducing readmissions.

"This Care Redesign readmission reduction pilot project highlighted the benefits of having a role that oversees the transition of care," said Katie Flannagan, MSW, LCSW, ACM-SW, director of case management and clinical social work at DUH. "Patients and families need increased support, education and guidance as they transition from inpatient to outpatient care, and that's exactly what Sharon offers."

Farrow leads a daily, multidisciplinary huddle where providers, case managers and nurses discuss barriers to discharge and give updates for patients who will be discharged in the next couple of days. Her role is part of the case management team and Farrow works to support her colleagues as well as the care team for a collaborative approach to discharge.

"Sharon is strategic, detail-oriented, and has great interpersonal skills," said Arkeba Barnes, MSW, MPA, case manager. "She is an asset to the project as well as Duke University Hospital."

"COVID is something that is new to all of us; however, with Sharon's experience and guidance, she has made working on the COVID team a very smooth transition," said Molly Coston, MSW, LCSW-A, case manager. "Having her as our case management support has been a great resource for me and the other case managers to consult with."

Farrow also works with each patient and their family members to answer questions about transitioning home after COVID. She helps address social determinants of health, like the ability to pay for medications, follow-up appointments and questions regarding the isolation period. Farrow also facilitates the connection to DukeWELL, a specialized group of nurses and social workers who follow up with discharged COVID patients within 24 hours.

"This experience has allowed me to learn more about what the patient and family needs are," said Farrow, MBA, BSN, RN, BC-CCM. "I speak with each patient and or family member prior to discharge to hear their concerns and address their needs. I always let them know they can call back with any questions even after discharge."

Since the pilot began in September 2020, the readmission team has seen an increase in collaboration among care team members, as well as a two day decrease in length of stay and improvements in MyChart enrollment, Duke Well referrals, 30-day readmissions and follow-up appointment rates. The team has also found that patients who arrive to a scheduled follow up appointment have a 10 percent lower readmission rate on average. With the decrease in the COVID census, the readmission project work has transitioned to 4300 for additional learnings.  Since closing the project on the COVID unit 8E in April, the staff have continued to exhibit increased care team collaboration and are maintaining the multidisciplinary daily huddles as well as other key interventions.

"The real heroes of this story are case management and team collaboration," said Elizabeth Anderson, RN, management engineer with Performance Services.

And if a patient is readmitted, Farrow completes a readmission interview to capture the voice of the patient. This gives her an opportunity to learn more about their support at home after discharge, and ask the patient what could've been done differently. The team hopes the role may be expanded in the future to assist patients on other units with the transition home.​​